About the Indigo Eye
I HAVE BEEN PASSIONATE ABOUT ANCIENT EGYPTIAN ART AND ARCHAEOLOGY SINCE I WAS 12 YEARS OLD. I HAVE READ ON MY OWN, TAKEN COURSES AND STUDIED HIEROGLYPHS AS WELL.
MY FAVORITE PERIODS OF EGYPTIAN HISTORY ARE THE PREDYNASTIC AND THE 18th DYNASTY.
THE PREDYNASTIC PERIOD IS BEFORE THE INDIVIDUAL STATES AND THEIR GODS WERE UNITED EGYPT UNDER ONE KING (THE PHARAOH). THIS WAS IN 2750 BC. THE EIGHTEENTH DYNASTY WAS A PERIOD OF GREAT ART AND PEACEFUL TRADE.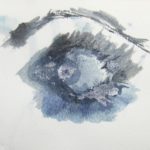 Save
Save
Save