Posted by Indigo Eye on February 15, 2017
with Comments Closed
IN THE LATE PERIOD OF ANCIENT EGYPTIAN HISTORY THE PHARAOHS OFTEN HAD DECORATIVE MASKS PAINTED IN THEIR LIFETIME. THESE AS WELL AS MANY FINE OBJECTS WERE MEANT TO ACCOMPANY THE PHARAOH IN THE AFTERWORLD WHERE HE WOULD BE SURROUNDED WITH EVERYTHING HE MIGHT NEED FOR HIS HAPPINESS.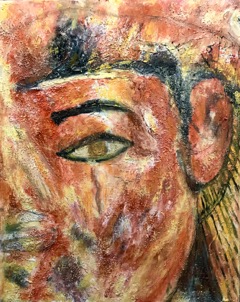 Pharaoh's Mask, $995
16×20, Oil on canvas
Save
Save
KMT is the ancient word for Egypt.
KMT is a special series of artworks I have created for Indigo Eye.
I have had a lifelong love and study of Egyptian art and archaeology.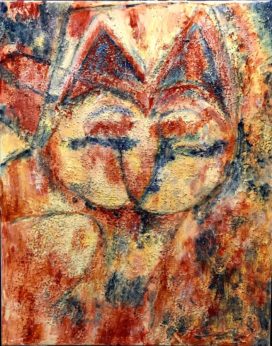 Pussycat, $995
The Egyptians loved their cats and wanted their spirits to live on in the Afterlife.
16×20 Oil on Canvas with Mixed Media
Save
Save
Save
Save
Save
Save